By
Tremayne Miller
Highlights from THE 54TH BFI LONDON FILM FESTIVAL 2010: 13-28 October
Never Let Me Go
Director: Mark Romanek
Screenwriter: Alex Garland, from the novel by Kazuo Ishiguro
Cast: Carey Mulligan, Keira Knightley, Andrew Garfield, Charlotte Rampling, Sally Hawkins.
Production Details:
Release date(s)

15 September 2010 (2010-09-15) (United States: limited)
11 February 2011 (2011-02-11) (United Kingdom)

Running time

103 minutes
Writer: Tremayne
The following words appear up on screen for the opening sequence: 'By 1967 life expectancy had passed 100 years..'
A delightful Isobel Meikle-Small plays a equally delightful Kathy, whose older version is played by Carey Mulligan (who to me resembles actress Michelle Wiliams), who is just as delightful. We get a real sense of the crush she holds for Tommy (Andrew Garfield) when she listens to the cassette tape he bought for her at a school rummage sale.
A sudden twist occurs when new teacher, Miss Lucy (Sally Hawkins) tells the class how their lives have already been mapped out for them, as at different intervals in their lives they will donate their vital organs.
"They always say girls are mean to the boys they like", says Kathy to Tommy on realizing that he may have feelings for another girl, Ruth (Keira Knightley).
We move on from 1978 to 1985 and there is a scene between Kathy and Tommy who catches her flicking through his porn magazines she has come across.
Kathy listens to the old tape she was given by Tommy trying to drone out the sound both he and Ruth, now an established couple, are uttering making love in the room next door… That is until she is interrupted by Ruth who is stood in her doorway and makes it known to her that she knows what she was up to when she was caught flicking through Tommy's porn magazines. What we, the audience, can take from it is that it was her way of satisfying those natural sexual urges she has towards him, which would otherwise be suppressed.
Their lives appear to be unraveling at great speed as it reaches the Completion year of 1994. Kathy walks over to Tommy who is lying in a hospital bed and as she leans over and kisses him on the cheek, it is as if she is fulfilling a gaping hole she has held within her for years. She climbs in beside him.
An extremely powerful, stand out scene when Tommy screams at Kathy to stop the car. He can contain his rage no longer at the situation he finds himself in, with no way out. And upon, what could well be his final operation before he leaves this world, he gazes up into Kathy's eyes. She had always been his true love, not Ruth. At the same time this is happening images flash through Kathy's head of when they were at school together, a time of innocence, before any restraints had arisen. Their's is a story of unrequited love, you feel.
The film closes on Kathy saying in reference to Tommy: "I was happy to have had any time with him at all".
By
Tremayne Miller
Highlights from THE 54TH BFI LONDON FILM FESTIVAL 2010: 13-28 October
Somewhere (WINNER – VENICE GOLDEN LION)
Written and directed by SOFIA COPPOLA (Academy Award Winner for LOST IN TRANSLATION)
Starring: Stephen Dorff, Elle Fanning
UK Release date: tbc
Writer: Tremayne
As a get well soon gift to the principal character Johnny (Stephen Dorff) pole dancer twins are hired but we see he is not that fussed or is too medicated to care, and as they slide down the poles for their finale he is out for the count!
The twins return in a separate scene but, this time, dressed in tennis attire, and one cannot help but admire their athleticism. It is then that Johnny says something, up until this point the film has had absolutely no dialogue. Twenty minutes to be precise!
The next time he awakes and speaks it is to his daughter (Elle Fanning) who is drawing on his caste. He tells the mother of his daughter, that he sustained his injury from a stunt he did in his latest movie.
Her father, whose turn it is to look after his daughter, takes her to her ice-skating lesson. Fanning glides across the ice as gracefully as a ballerina, while Dorff manages to cast her an occasional glance in between looking at his blackberry.
Absolutely hilarious when Johnny, who we can only think is comatosed , blanks out on a beautiful woman he has met at a random party that has been put on in his hotel. Before this he has already received two anonymous threatening text messages.
I loved the press call scene where we are reminded of the falsehood behind the marketing of a film; and when it comes to the end of the photo call the actress, who has played alongside him in the film that is being promoted, utters under her breath, brushing against his ear, "it wasn't that good!", chipping away at the pedestal that he has been put upon.
And who should be in the elevator as he steps into it but none other than Benicio Del Toro (one of my preferred actors)? He always brings great presence to the screen even in a minor role!
A poignant scene follows when Dorff is called in by the visual effects department who want to make a caste of his head. Once he gets there he is advised to keep his eyes and mouth shut until the process has ended. He is only able to breathe through his nose and this depicts well the more mundane side of show business, highlighted all the more by the director choosing to have a shot of Dorff sat all alone in make-up as the minutes, hours pass him by. Then, as he swivels round in his chair, in the next scene, the transformation to have him as an ageing man is quite remarkable.
It is rather amusing when his regular hire-in masseuse is substituted by a male, whose apparent technique is to meet his clients halfway by also getting naked. At this point Johnny points out that this kind of thing is not for him.
The majority of the women in the film are shown as being mere objects, playboy bunny types.
In the middle of the night he hears from his daughter's mother, to tell him she needs some time out and she does not know for how long . Johnny, although not his preferred choice, opts to take his daughter to Italy with him as he is still in the middle of making a movie.
Over a breakfast table his daughter gives him 'the eyes' who is not impressed by her father's behaviour whose obvious playmate is sat at a table across from them. Although a good father, he is unable to curb his ways for the sake of his daughter.
Cleo (Fanning)is shown to be very grown up and capable as she makes eggs Benedict for breakfast for her and her father.
Johnny forgets he has hired a call girl for the time his daughter would be at summer camp. The only problem is that the car breaks down and he is forced to take his daughter back to where is staying. They return to the flat where Johnny finds the call girl waiting in bed for him. Before his daughter can see her, he makes a swift move by suggesting they buy a burger in the restaurant downstairs.
The camera pans out to show them both on sun loungers. His daughter is shown as being an advantage to him because she can read through the scripts he has been sent to tell him if they are any good.
Johnny takes it upon himself to take Cleo to camp himself . On the way there she breaks down in front of him, admitting to being scared by not knowing exactly when her mother is going to return and him always being away with his work.
This prompts them to take a pit stop in Las Vegas, showing the flashier side of being a superstar but it is sure to come at a cost!
As Johnny sees her daughter off in the taxi that will take her the rest of the way to camp,he realizes that he has not only enjoyed her company but has also benefited from it. Often rather a fake person, he sheds some genuine tears as he is a much truer a person in her presence.
Lonely, an urgency in him, leads him to call up Leila , presumably a regular of his, and admits to her how he feels like 'a nothing'. She outwardly refuses to go round to see him, obviously not caving in to his emotions any more. He breaks down while he is on the phone and afterwards too.
It raises the subtle question of whether he will take his own life, or at least the reasons why other Hollywood movie stars do. They want nothing more than that normality back in their lives, which has become unreachable.
One cannot argue that Johnny's character always makes sure to treat well, and with respect, all the people who work for him .
Right at the end you question what he is going to do next when he pulls up at the side of the road to find himself again. He then jumps back in the car and drives off into the distance.
By
Douglas McFarlane
Beverly Hills, CA (PRWEB) December 10, 2010
In the tough business of show business, there are not many ways to make a successful film outside of the Hollywood studio system. It's even tougher in the low-budget independent film world. Today however, saw the successful U.S. launch of Making It In Hollywood, where a blogger from Scotland turned his celebrity blog into a feature length documentary and partnered with Amazon.com to launch the DVD in the U.S. today.
ShareThis
Email
PDF
Print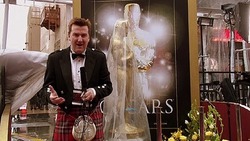 Kilt-cam - Douglas McFarlane at the Oscars
"Making the documentary was probably the most exciting two years of my life, as I worked with a lot of great people and spoke to a lot of stars who I had admired from afar." Douglas McFarlane, Director, Making It In Hollywood
It was an invite to cover the Oscars for his film and theatre blog that connected the ideas which were rushing around the head of first-time director Douglas McFarlane. He had been acting for several years prior to this, performing in theatres around his native Glasgow, character parts in a wide variety of independent films, and TV on a few occasions. Like many people who are intrigued with show business, he was keen to understand what it really takes to be successful in the Hollywood machine. Using his internet expertise, McFarlane started social networks in film and theatre which soon generated large communities. "As soon as I got the Academy nod, the plan was to interview indie filmmakers and blog an article to my UK Theatre Network and UK Film Network, using my high definition camera, laptop and smartphone", McFarlane says, "but all that changed on my first weekend in Hollywood".
After securing interviews with independent actors, directors and presenters working in Hollywood, he was invited to an exclusive pre-Oscars event where Ennio Morricone was receiving an Honorary Oscar award from the legendary film producer Dino-De-Laurentiis (who sadly passed away recently aged 91). Morricone had composed hundreds of film scores including the all-time classic The Good, The Bad and The Ugly, and his work continues to be used in QuintenTarantino films. "Suddenly the atmosphere in the room changed and a tall grey haired gentleman passed through the crowd while the invited journalists from Fox News jostled for position in front of my camera", McFarlane says. "Hollywood legend Clint Eastwood arrived and hugged his old friend who he hadn't seen in 40 years. It was at that very moment, that I realised I was filming a behind-the-scenes view of Hollywood that a wider audience would be interested in seeing", the director adds.
Cannes was the next stop for our newly confident documentary maker and a fifteen minute short version of Making It In Hollywood was entered into the festival. It seems that all of Hollywood descends on Cannes in May as the tranquil beachfront is turned into an exclusive red carpet extravaganza and deals are made aboard large multi-million pound yachts. Jessica Simpson was launching her film "Major Movie Star" which created a media frenzy and clashes with bodyguards. With supporting camera from indie filmmaker Kevin Clark, they were able to film the event in close detail. In another scene in the documentary, Leonardo Di Caprio waves to fans in the Cannes sunshine, only to be later filmed at the airport being whisked away under a hoodie, avoiding the publicity that he was actively seeking only an hour earlier.
London was the next part of the journey as the BBC and Film London were running an annual competition to win "£100,000 to make a film". Winning through the initial stages to get to the top ten applicants was difficult enough but could our new director really convince those at the top ? The hard work over several weeks, culminated in a 4 day film school and a pitch to some of the most influential people in the British film business. This lead on to a trip to Robert Redford's Sundance Film Festival, in the beautiful snow-capped mountains of Salt-Lake City. "I wanted to get more feedback from actors who had made it to the top of their career to keep a balance between those who were trying to make it and those who already had", says McFarlane. After hundreds of phone calls, chance meetings and serendipity, the A-listers started to talk. Sharon Stone and Ewan McGregor were first to provide insightful thoughts on how their success has come about. McFarlane adds, "I also interviewed Jackie Chan's son, Jaycee, and he let me know how he felt being part of an infamous filmmaking family".
It was back to London for the BAFTA's and an enviable slot on the red carpet next to the BBC to interview as many of the Brits who are household names in Hollywood. Tilda Swinton, Ricky Gervais, Eddie Izzard and Kate Hudson, all stopped to share a thought about Making It In Hollywood. The adventure ends with a final trip back to the 82nd Oscars in Hollywood where perhaps the most succinct view of Making It In Hollywood came from well-known New York Times film critic David Carr. "Douglas what you need to remember is that there is this whole heaving apparatus that goes on, independent of film. It's this huge throbbing machine where bells go off, and whistles blow, smoke comes out, and eventually everybody, the stars, the journalists, and maybe even sometimes the movies are thrown clear. But in general it isn't really about the movies. It's about a society need for a narrative of fame to go with these films. They need to know the story behind the stories that they've just seen."
McFarlane says "Making the documentary was probably the most exciting two years of my life, as I worked with a lot of great people and spoke to a lot of stars who I had admired from afar. I was able to understand the hard work, dedication, networking, skills and talent that you need in order to truly be successful in the toughest business, in the toughest town."
Making It In Hollywood is out now on Amazon.com with a UK release in January. It will also be available on Amazon's Video On Demand early in 2011.
By
Tremayne Miller
Highlights from THE 54TH BFI LONDON FILM FESTIVAL 2010: 13-28 October
The Kids Are All Right
Director: Lisa Cholodenko
Screenwriters: Lisa Cholodenko / Stuart Blumberg
Cast: Julianne Moore, Annette Bening, Mark Ruffalo, Mia Wasikowska, Josh Hutcherson.
Production Details: USA 2010, 107 min
Writer: Tremayne
This 'wonderfully realistic film is both deeply affecting and riotously funny' (Sarah Cohen, Time Out) and is 'an exceptional drama… the sort of pleasingly grown-up fate (that is) all too rare' (Betsy Sharkey, Los Angeles Times).
A standout scene for me in the film is when mothers (Julianne Moore & Annette Bening) of ,Joni and Laser accidently knock off the mute button to the gay porn they are watching. Bening is anxious that they will have managed not only to have awaken their household but everyone else as well. While this is going on Joni (Mia Wasikowska from Tim Burton's – Alice In Wonderland), who bears a resemblance to a younger Gwyneth Paltrow), is sifting through their documents to find out the name of the sperm donor, the biological father of her and Laser.
Mark Ruffalo, the father, is contacted by the donor department to ask his permission for his details to be given out. He accepts.
Ruffalo gives a very natural performance. We learn that Joni has to be the one to contact the department , rather than Laser, as she has just turned eighteen.
After Moore catches Laser watching male porn with friend Clay, she suspects he may be a homosexual. Later, in the kitchen, the mothers wait for him to tell them as much. Then he surprises them by questioning why, as lesbians, they would want to watch male porn. He then goes on to admit to him and Joni contacting their donor father.
An amusing scene is Ruffalo's reaction to being asked by his son why he donated his sperm. Slightly thrown by the question, he responds back with: "it seemed a lot more fun than donating blood!" Then in all seriousness he adds, he is glad that he took that step.
The film puts across the theory of 'the job of the child is to make its life different, and the job of the mother is to smother that child."
"I need your observations like I need a dick in my ass!" is Bening's response to Ruffalo giving her parenting advice now he has come on the scene.
Ben (Ruffalo) has a massive impact on each and every one of their lives, not just Moore's with whom he has started an affair.
Bening, in an effort to build a relationship with Ruffalo and to build bridges between the loving one she has with Moore, invites herself over to Ruffalo's house where Moore has been carrying out a landscape gardening project.
It is obvious what Ruffalo's true feelings for Moore are when he declines a booty call from one of the waitresses who works for him.
Bening warms to Ruffalo and is more accepting of him when he has the whole family round for dinner, and, looking through his record collection, she learns of his love for Joni Mitchell ,.
She excuses herself to go to the bathroom and her suspicions of an affair between Moore and Ruffalo are confirmed when she finds some of Moore's hair. Returning to the table, she manages to hold it together but her inner desperation is noted by the audience by the director using an intentional sound cut.
A tear wells up in my eye in one of the later scenes where Laser says to one of the mothers that they shouldn't break-up as they are both getting too old.
All-in-all a great script, played out at an impeccable pace by its actors.
By
Tremayne Miller
Highlights from THE 54TH BFI LONDON FILM FESTIVAL 2010: 13-28 October
127 Hours

Director:
Danny Boyle
, Screenwriters:
Danny Boyle, Simon Beaufoy

Cast:
James Franco, Clemence Poesy, Amber Tamblyn, Kate Mara

Production Details: 7th January 2011
Writer:
Tremayne


In the opening sequence the screen was split into three, accompanied by face paced music, cementing the film as that of Daniel Boyle!
The music is composed by R.H. Rahman (Slumdog Millionaire).
The colours make for a beautiful landscape. The film, based on the book entitled Between a rock and a place.
We immediately fall for the main , (James Franco), with his out-there and crazy approach to life.
By the particular way in which the film is shot we anticipate him getting caught between a rock at any moment, and when he eventually does, Boyle brings lightheartedness to it by having the title to the film appear up on screen as if inserted inside the very crevice in which Franco has caught one finger and arm.
I tell you, there is nothing more annoying than having the person beside you tell the person beside them what is looming ahead, which meant I had already pre-prepared myself for the fall! Aargh!!
Unbeknown to us is the depth of the drop he has fallen, until he shouts with all his might to the two girls he has been acting as guide to. After he comes to terms with the initial shock of what has happened to him, he thinks logically and starts to take equipment out of his rucksack, including a pen knife which inevitably, he drops and is unable to reach down and pick up. This is followed by a laugh-out-loud moment when he manages to hook it onto a curled piece of twig.
Ever the optimistic one, despite his current predicament, he even finds beauty within the environment he finds himself in, which, ironically, is also his own worse enemy!
He begins to caste his mind back to when he was a boy and his father took him up to the Blue John Canyon.
We learn from the first video footage he shoots that it was a loose piece of chalkstone that caused his arm to become lodged; his thumb is pretty much lost without any circulation getting to it; that he is out of food and the exact measurement of liquid he has left.
He keeps his morale up by visualizing what the party, he had been invited to by the two girls he met, would have been like.
Instead of Boyle concentrating on his character's severe need to quench his thirst , he distracts us by humorously feeding us the different advertising campaigns used by manufacturers of the energy drink – Gatorade.
He comments on looking forward to the fifteen minutes of sunshine he receives every day at 9.30 in the morning; and realizes the only chance of him surviving is to hoist himself up and amputate his arm.
The first lesson he learns is that he should not have bought the cheap penknife made in China!
What might have otherwise been a boring film, is made interesting through Boyle's use of flashbacks and still-to-be fulfilled fantasies. Flashes of the woman he longs to be with are broken by the sound of torrential rainfall.
His "It's no slurpy!" line is etched with me when he has to resort to drinking his own urine.
As he begins to lose consciousness, images of the son he will father in the future spur him on enough to cut himself free using his pen knife.
The expectant scene is made more disturbing on the mind because a lot of blood and gore are shown.
A challenging and meaty (for want of a better word!) role for actor James Franco, who is good and drives the film single handedly.
I felt a strong pain in my gut as he called out to passers -by with every last breath he has left. The second film in the festival to make me cry. An amazing story , full of courage.
We see, at the end , the real life canyoneer the story is based on. His premonition of having a son came true after meeting his wife three years after the incident. We learn that he still continues to climb and be a canyoneer. The only difference now is that whenever he goes anywhere he is sure to leave a note behind!
By
Tremayne Miller
Highlights from THE 54TH BFI LONDON FILM FESTIVAL 2010: 13-28 October

Archipelago – Q & A Session


Writer: Tremayne
Director Joanna Hogg and Cast member Kate Fahy, who played the Mother in the film, both attended the Q & A Session, which followed the film's broadcast.
Tresco on the Isles of Scilly, a place Hogg has known from the age of six, was used as the location of the film. She comments on preferring to give herself parameters to shoot within and how she found the juxtaposition of the landscapes on Tresco similar to that of The Scottish Highlands.
She goes on to discuss the actors she works with. 'Unrelated', her first film, features one of the actors who can also be found in 'Archipelago'and for whom she especially created a role.
What is important to her is that her actors bring an element of themselves to the role they play.
Questions are then put to the director and producer of the film.
1) How much of the film is scripted and how much comes from the actors themselves?
"First I wrote an illustrated story which could be elaborated on, so there is some precision. The acting Naturalistic, with me occasionally chipping in to keep to the story.
2) Are specific shots meant to denote a painting?
"Yes, with the the use of light. A stillness, by the camera hardly being moved".
3) How much of the nature and weather shown in the film was planned beforehand?
"We were incredibly lucky that the weather kept to how the story was laid out".
4) How was it that you came to shoot in story order?
"I guess shooting on a tiny island lends itself to it, which in turn adds another dimension to the film as if it is happening in real time. It's also helpful to the actors in keeping a continuity. Cast member Kate Fahy could be in the moment and could push herself within the improvisation".
5) (This question fis rom an Isles of Scilly devotee!):
What led the character of Cynthia to explode during the film?
"Cynthia's character is a complex one with relationship issues".
6) Did the dinner table scene require many takes?
"Yes, the scene where the in-resident cook is de-feathering the pheasant, as well as the scene in the restaurant. They were difficult to shoot from a mood perspective. A day was spent on each which, at the speed I work at , is a long time!"

Production details: UK 2010, 100 min.